Broadway Gas Main Replacement Project
Project Description:
Columbia Gas will be replacing the underground gas main on Broadway from Columbia Road to the Norwell line, extending down River Street in Norwell to the Route 3 overpass. This work is intended to enhance the safety and reliability of their gas distribution system as well as increase capacity to their network east of Hanover. The work will include the replacement of the existing gas main and valves as well as replacement of services that serve customers along the way. Where gas meters are currently located inside houses, Columbia Gas will be moving the meters to the outside of the buildings.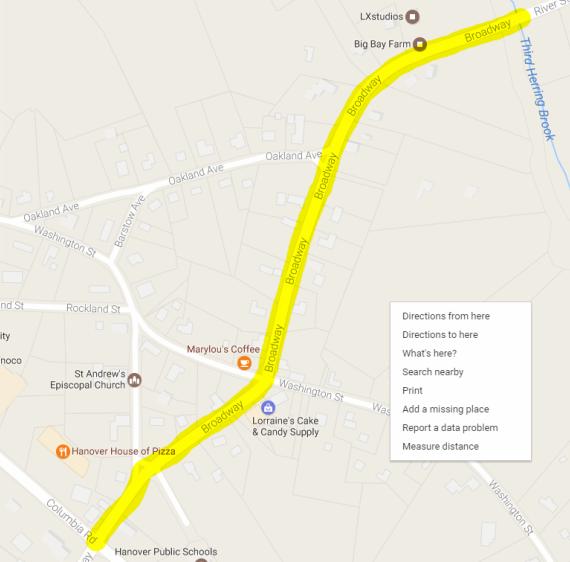 Work is expected to start the week of May 22 and is expected to progress through the summer into the fall of 2017. Construction will primarily take place Monday through Friday, 7:00 am to 4:00 pm. Work at the intersection of Columbia Road and Broadway may take place in the evening to minimize disruption to traffic. Night work is NOT currently permitted along the residential and business portion of Broadway except in the event of an emergency. All night work will have to be pre-approved by the Police Department and Department of Public Works.
Columbia Gas and their contractors can be identified by marked vehicles and all company employees and contractors carry photo identification.
The construction process will require temporary excavations of roadways, sidewalks, and possibly portions of driveways and /or lawns. Gas service may be temporarily interrupted and road closures, while not anticipated, may be required for a short period of time within the construction area. Uniformed police officers will be on hand to assist motorists and pedestrians travelling through the job site.
To restore gas service, Columbia Gas will need to access homes and businesses to relight gas appliances and perform safety checks. If residents are not home, door hangers will be left for residents to call to have their appliances relit.
Construction crews will work to minimize potential inconveniences to residents and businesses. At the completion of the project, Columbia Gas will fully restore all properties as close to their pre-construction condition as possible. Full restoration of some properties may take time to restore due to weather or seasonal conditions.
In addition, as Broadway was recently paved, Columbia Gas will be cold planing and repaving Broadway in the spring of 2018. This work will include replacement of all pavement markings. This work is being done completely at Columbia Gas's expense.


Traffic Considerations
While Broadway is expected to remain open to two way traffic at all times, motorists can expect significant delays. The Town is encouraging motorists to seek alternate routes, both east and west on Broadway from Hanover to Norwell as well as north and south on Washington Street from Pembroke to Hanover to avoid delays.
Questions for Columbia Gas?
For more information on this project, please contact Columbia Gas External Communications Specialist Karen Lane Newell at (508) 580-0100 x 1220 or by email at klanenewell@nisource.com
Questions and concerns for the Town of Hanover?
The Town of Hanover will monitor this project daily to ensure that all restoration work meets the Town's standards. In addition, detail officers will be available to ensure the safety of motorists. Finally, questions and concerns may be directed to the DPW office by telephone (781-826-3189) or by email (office@hanoverdpw.org)


Schedule and Updates
The Town has requested Columbia Gas to provide an anticipated construction schedule and will post that schedule on this web page as soon as it is available. In addition, the Town will post any updates to the project. We urge you to check back often and to follow the Town's social media posts for up to date information.
Update: 6-22-2017
The gas main replacement project is now east of the intersection of Broadway and Washington Street (Four Corners) between Washington Street and Oakland Ave. Work will continue to the Norwell line and beyond. Motorists traveling east on Broadway into Norwell or west from Norwell into Hanover should continue to seek alternate routes.